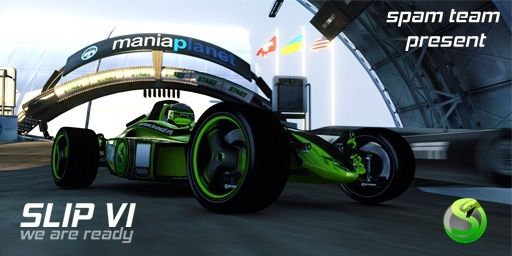 Version française :
Après une saison de pause, c'est au tour de la team Spam de faire appel aux talentueux créateurs de la communauté "Dirt"  pour tenter de l'aider à élaborer ses packs officiels en prévision de leur Spam League In dirt Paradise.
En effet la team Spam annonce également l'élaboration d'un nouveau format de sa compétition annuelle .
Un règlement complet sortira d'ailleurs sous quelques jours.
Il vous sera demandé à cette occasion d'essayer de mapper sans trop d'hexa, même si nous la tolérerons dans le cadre de correction de bug ou encore de cut avéré, mais aussi dans le cas où le passage se révélerait d'une fluidité sans égale.
Quelques restrictions tout de même dans vos créations :
Le chemin à emprunter doit être clairement identifiable, il ne peut y avoir de panneaux pièges ou de fausses-routes et lorsque il y a difficulté, la vue doit impérativement être dégagée.
Si passage en "aveugle", un panneautage quasi parfait ou du moins instinctif vous sera demandé !
Bien évidemment, la map doit pouvoir être finie depuis n'importe quel checkpoint .
C'est bien de "Dirt" dont on parle dans cette nouvelle édition du SLIP, donc les portions de bitume sont bien entendu tolérées pour des reprises d'appuis mais ne doivent pas être trop longues, trop tech et surtout dépourvues de drift trop techniques.
Toutes les maps devront être en mood jour et devront avoir un poids total de 3500 planets maxi.
(Evitez au maximum les routes couvertes, genre tunnel interminable dans le noir)
Nous acceptons les maps :
- "standard" d'une durée comprise entre 48 secondes et 1 minute 20 maxi.
Aucun mod sur les maps.
Les signes de direction devront être les panneaux classiques NADEO.
Nous vous demandons d'utiliser un pack de panneaux publicitaires (SLIP, TMLive, Mania-Actu, SPAM) ci-joint :
SLIP :
TMLive :
ManiActu :
TM Dirt :
SPAM :
Vos maps devront être taggées avec le tag suivant : $cccSlip$fffVI$000»
Pour le p'tit nom de la map et la couleur, c'est selon vos inspirations les plus délirantes .... ou pas.
Ne mettez aucun mot de passe à vos maps lors de l'envoi, car elles seront toutes revalidées avec un même compte pour que les tests s'effectuent sur des maps "anonymes".
Envoi des maps à :
statping@gmail.com
Date limite de transmission des maps : 31/07/2015 minuit.
Un jury interne Spam sera désigné pour la sélection (pilotes confirmés et funs).
Les maps seront notées de "façon anonyme" (auteur et nom seront changés).
Explications relatives à la sélection finale des maps :
-6 maps type qualifications TA, 30 maps type matchs round.
Récompenses pour les maps sélectionnées :
Un tag bronze à l'effigie du SLIP pour les mappeurs
En espérant que vous relèverez le challenge avec nous
Le staff Spam.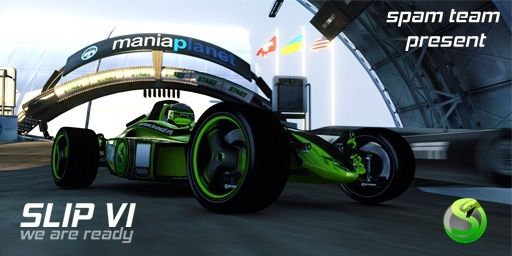 English version :
Mappers WANTED (needed)
After a  season's break, it is now time for the SPAM team to ask TM2 Dirt community's talentuous map creators to help them with the official packmaps for the next Spam League In Dirt Paradise.
Indeed, Spam team is proud to also announce a new format for its annual competition.
A full "rules text" will be released shortly.
What we ask from you is to map without too much hex(a), it is tolerated in order to correct a bug or block an alleged cut or only if the sequence appears to have a wonderful flow.
Nevertheless, here are the restrictions for your tracks :
- the way must be clearly identified, no misleading signs, no false route & whenever there is a difficulty, the view should be absolutely clear
- if there should be a "blind" passage, a perfect, or at the least an intuitive signposting is required
- of course the track must be respawnable from any Checkpoint so that it can be completed from any CP
May we remind you that in this new SLIP edition it's all about DIRT, therefore the road (tarmac) sections are tolerated but cannot be too long, neither too tech, nor including skillfull drifts .
All maps should be in DAY MODE, & should weigh no more than 3500 planets.
Beware of the shadows calculation in TM2 & keep to a minimum or even avoid covered roads like endless dark tunnels.
We accept the following types of maps:
-"standard", from 48 sec to 1mn05 length
NO mod on the maps.
The direction signs should  be the classic Nadeo signs.
AN advertisement pack is available (SLIP, SPAM, SLIP, TMLive…) :
SLIP :
TMLive :
ManiActu :
TM Dirt :
SPAM :
Your tracks will have to be tagged as follows : $cccSlip$fffVI$000»
As for the trak's name & color this is left to your wildest imagination ..or not.
Please don't put any passwords on your maps in your sending, since they all will be validated with an unique account so as the tests will happen on "anonymous" maps.
Maps to be sent to :  statping@gmail.com
Deadline: 31/07/2015 midnight
Relating details to the final selection of the maps :
- 6 maps for qualifications in TA ; 30 maps for matches in round mode
- an internal SPAM jury will be chosen for the selection (expert & fun drivers)
- maps will be graded on "anymous way" (author and name will be changed)
Rewards for the selected maps :
A bronze SLIP tag for the mappers.
Hoping you will take up the challenge with us,
SPAM staff